The Caribbean by Private Jet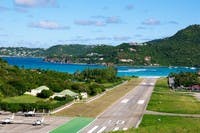 Chartering a private flight between Caribbean islands offers spectacular views combined with exclusive access to some of the Caribbean's more inaccessible islands.
The geography of the Caribbean makes private charter a particularly convenient and direct alternative to scheduled flights - for business and leisure travellers alike.
While we do offer international air charter to Caribbean Islands, some of our most popular private flight routes are between St Barts and St Maarten, air charter from Miami to Anguilla, and private jet hire for transfers from yachts and cruise ships.
For more information on Caribbean flights or for a personalised private jet quote please contact us or call {{telephone}}
Benefits of private jets in the Caribbean:
Hop between Caribbean Islands
Flight schedules to fit your holiday plans
Flexibility if you want to extend your holiday
Stunning sea and island views from the air
Access to smaller island airports
Avoiding airport delays & queues
Privacy - travel through private jet terminals
Access to a network of 7000+ accredited aircraft
Compare the best prices and aircraft for your flight
Private jet experts available 24 hours a day
PRIVATE JET CHARTER TO ST. BARTS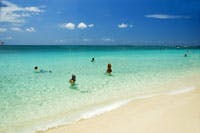 A short connecting flight by private charter from St Maarten, St Barts is a volcanic island of the French West Indies encircled by shallow reefs and stunning beaches.

St. Maarten Princess Juliana – St. Barts (one way) from $1 600
Aircraft: BN2 Islander
Flight time: 11 minutes
Passengers: 8
PRIVATE JET CHARTER TO MARTINIQUE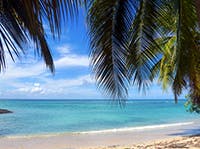 Aimé Cesaire Airport is located on the island of Martinique, in the town of the Lamentin, 20 minutes away from Fort de France and about one-hour from Sainte Anne.

St Lucia - Martinique International Airport Aimé Césaire (one way) from €1 530
Aircraft: BN2 Islander
Flight time: 18 minutes
Passengers: 8
PRIVATE JET CHARTER TO GUADELOUPE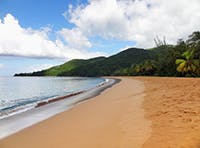 The international airport of Guadeloupe is located 3km away from the city of Pointe-à-Pitre, at the junction between two parts of the island: Grande-Terre and Basse-Terre.

Pointe a Pitre International Airport - Tortola Beef Island (one way) from $7,500
Aircraft: BN2 Islander
Flight time: 1 hour 26 minutes
Passengers: 8
PRIVATE JET CHARTER TO ST MAARTEN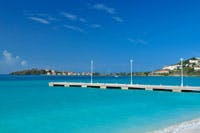 Exclusive villas, white sandy beaches, all you can expect from a Caribbean island. Private jets of all sizes can land at Princess Juliana International airport, a popular gateway for private charters to other, smaller island runways.

Miami Opa Locka Airport - St Maarten Airport (3-night return) from $25 400
Aircraft: Hawker 800XP
Flight time: 2 hours 38 minutes
Passengers: 8
PRIVATE JET CHARTER TO ST KITTS AND NEVIS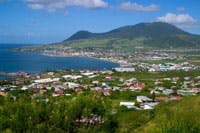 Both islands are popular destinations by private air charter from Antigua, St Maarten or Puerto Rico, and offer unspoilt luxury and breathtaking landscapes and beaches. The main airport is in Basseterre.

Punta Cana - Basseterre (4-night return) from $10,800
Aircraft: King Air 200
Flight time: 1 hour 43 minutes
Passengers: 4
PRIVATE JET CHARTER TO NASSAU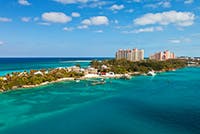 The capital of the Bahamas, located on New Providence Island, Nassau blends old world architecture with its busy port, and private charter flights are popular for both business aviation and private leisure flights.

Miami Opa Locka to Nassau (3-night return) from: $8 650
Aircraft: Beechjet 400
Flight time: 40 minutes
Passengers: 6
PRIVATE JET CHARTER TO ANGUILLA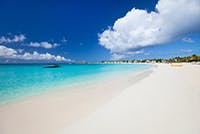 A relaxing island in the Northern Caribbean, Anguilla is reached easily by private aircraft charter from St Maarten, or Antigua, and is popular for private charter flights connecting with yacht charters.

St Maarten Airport to Anguilla (one way) from: $790
Aircraft: BN2 Islander
Flight time: 9 minutes
Passengers: 8